Learn to Dive in France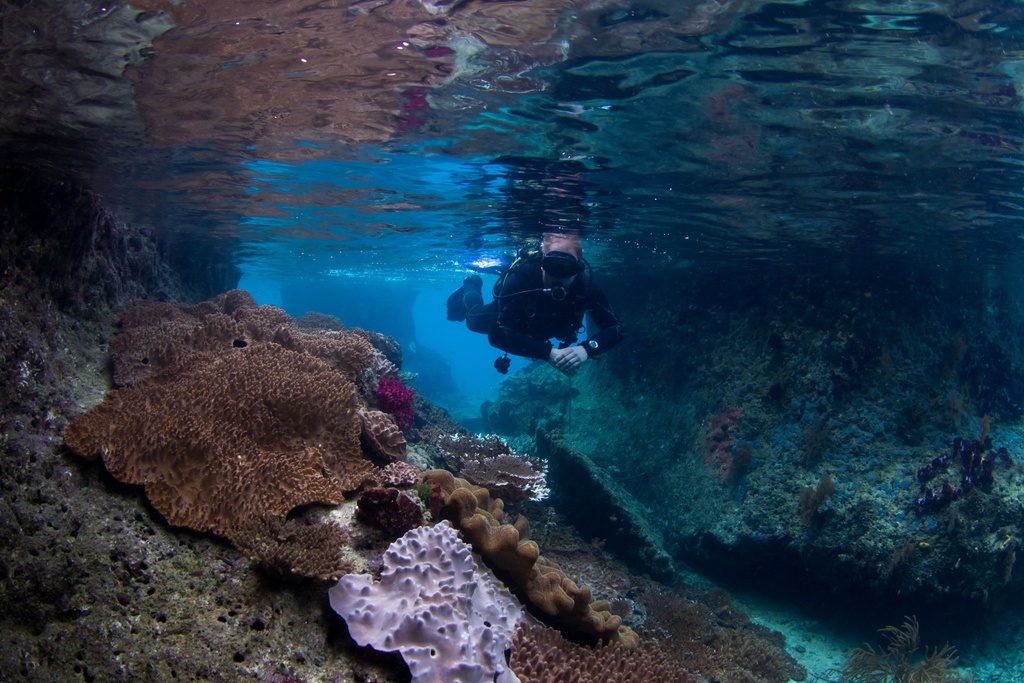 France's Highlights
Diving sites along the Atlantic Ocean can go up to 60 meters. The bottom structure is made up of sand, stones and rocky structures. France was the founder of scuba diving. A popular activity for tourists is to go diving along the French Riviera, but there are also sites in the island of Corsica, along the Atlantic Coast and in the water of the English Channel. With little marine life and coral, there are a variety of shipwrecks including ships and even a German submarine.
One of the main draws of scuba diving in France is the community. Divers tend to stay in campsites or trailer parks close to dive sites, sharing a community spirit and their passion. This also helps reduce the cost of staying in accommodation.
When is the best time to go diving in France?
Along the Mediterranean side, diving is possible all year-round with the right equipment and qualifications. You will require either a thick wetsuit or dry-suit to dive in winter. Along the Atlantic, it is possible from April to November.
Water Temperature: In the Mediterranean Sea, the water ranges from 11°C to 17°C in winter and 20°C to 28°C in summer.
Currents: The currents depend on the site and weather conditions. There can be no current, weak, moderate or strong currents.
Visibility: Water visibility in France ranges from 10 to 30 meters depending on the time of year and where you dive.
France's best dive sites
Lot et Garonne
Lot et Garonne offers some of France's best dive sites. Located in the Nouvelle-Aquitaine region, it features a complex cave system. The most famous sites have beautiful cave paintings lining the walls. The water is usually crystal-clear offering high visibility. Some prior experience in cave diving is required as these caves can be difficult because of the density of tunnels, narrow walls and amount of sediment on the bottom. A true mecca for cave diving lovers.
Grand Tombant De La Pointe Au Sel
La Pointe au Sel is an interesting dive site starting with coral formations from 25 meters to 71 meters. The drop-off starts at 25 meters and runs to 71 meters and is considered one of the best dives in La Reunion. There is a chance to spot: manta rays, devil rays, John Dory, Napoleon wrasse, tunas, barracudas, Mako sharks, lemon sharks, dolphins and even whale sharks. Between October and November, you may be able to dive with hammerheads.
Port-Cros
Port-Cros is a French island located in the Mediterranean, part of the group of islands known as Îles d'Hyères. This region has a large national park that has become famous with many dive spots. It has fauna of the Mediterranean and marine life including groupers, break, moray eels and scorpion fish. Not only are there a variety of reefs and steep walls, the Port-Cros is famous worldwide for some of its wrecks including the Donator. This 78-meter long freighter sank in 1945 and is located at a depth of 50 meters. The wreck is home to a huge amount of marine life and soft corals. Other notable wrecks in the area include: the Greek, the three masts Togo and the submarine Rubis.
About the country
France is one of the world's leading tourist destinations. Featuring a rich history and culture, it offers beaches and seaside towns, ski resorts, lavish cities and rural regions. Wander down the Champs d'Élysée in Paris admiring the boulevards or visit Côte d'Azur, a truly remarkable seaside town. With chateaus, beautiful architecture and picture-perfect villages, France is a country to be explored. Each region has its own distinct cuisine and cultures, traveling around France offers a culinary dream like no other.
Recreational Courses in France
Dive Centers in France
Getting to France
Most international flights land at Charles de Gaulle in Paris. From there, you can connect domestically or catch a train or bus to your destination. Within most cities, you can get around with public transport such as the metro, tram and bus.
Other important information
Capital: Paris
Official Language: French
Demonym: French
Currency: Euro
Calling code: +33
Driving Side: Right
Population: Close to 67 million
Pressure: Bar
First Stage: DIN